Do you want to optimize your blog posts for google? Your posts could have the potential to rank no.1 on Google or any other search engines, but that won't happen unless Google knows what keywords your post should rank for in SERP. In this article, we'll share the on-page SEO checklist we Alliance Tech use to optimize our posts so they come up in the search results.
What Is On-Page SEO?
On-page SEO (Search Engine Optimization) is all the stuff you do to tell Google what your post is about.
Conversely, off-page SEO is what you do to improve your rankings of your site, like backlinks and social media shares, etc. These are the signals Google uses to determine your site's authority and how high you will rank in the results.
Unless you optimize your posts on-page, Google won't know what keywords you should be ranking for, and you won't show up in the search results.
Below is our on-page SEO checklist to help you optimize your site from start to finish.
1. Install Google Analytics
Every website should have Google Analytics. With Google Analytics, you can collect visitor data to understand who visits your site and how they're using it. That information can help you tweak your on-page SEO.
Google Analytics also lets you know how your visitors found you. For instance, what your bounce rate is, and how data have changed over time. These details can help you see what's working and what's not.
Recommended reading: How to Install Google Analytics for Beginners
2. Install Google Search Console
Google Search Console shows how search engines see your site, while Google Analytics gives you a picture of how visitors use your site. In other words, Both sets of factors are important to your on-page optimization efforts.
Google Search Console's reports let you monitor AMP reports, double-check how well your site works on mobile, and much more.
Mastering Google Search Console: Everything You Need to Know
3. Install All in One SEO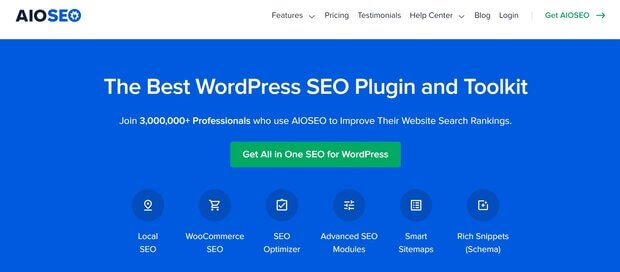 All in One SEO is a WordPress plugin with an enormous amount of features for On-Page SEO. It is a must-have for any WordPress site.
With All in One SEO, you can optimize your entire website. Set a focus keyphrase for pages and posts, and the on-page analysis tells you how well your content is optimized. It also gives you an actionable checklist of improvements you can make on your web page.
Recommended reading: How to Install and Set Up All in One SEO
4. Create a Robots.txt File and Submit it to Google
Robots.txt is a text file that allows you to give instructions to web crawling bots. You can use it to tell search engines which pages to index and which to ignore. Additionally, this is where search engines will look for your XML sitemap.
Recommended reading: How to Optimize Your WordPress Robots.txt for SEO
5. Install Schema.org Rich Snippets
The All In One Schema.org Rich Snippets plugin gives search engines the information you want to appear in the search results. This can make your listing more noticeable than your click-through rate (CTR). Better CTR typically improves your search rankings.
Here is an example of a rich snippet with a thumbnail image and a star rating:

Recommended reading: Beginner's Guide: How to Use Rich Snippets in WordPress
6. Use Google Keyword Planner to Find Keywords
Google Keyword Planner helps find keywords you would like your post to rank for. You can see how many monthly searches there are for a given keyword, how high or low the volume and competition are, and relevant keywords so you can choose the best ones to target for your post.
7. Use an SEO-Friendly URL
In general, straightforward URLs are preferred by both people and search engines. Match the URL to the title tag of your blog post wherever possible, and make sure your URLs aren't overly long (100 characters or more is probably too much).
8. Include Keyword In Your H1
Your post's first header, usually the title, should include your keyword. For instance, If we were targeting SEO as our keyword, we're good to go on this post. If our keyphrase was "SEO and target audience," we wouldn't be in great shape.
9. Use Latent Semantic Indexing (LSI) Keywords
Latent Semantic Indexing (LSI) keywords are closely related to your keyword. However, You can find them at the bottom of the Google search results for any given search term: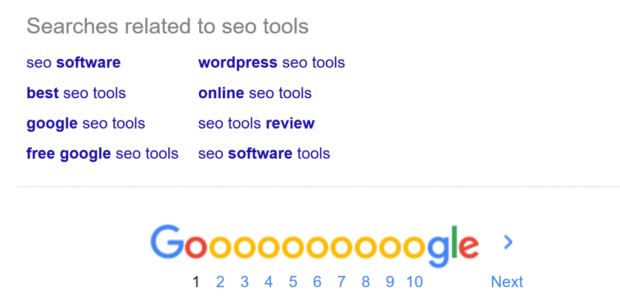 You can use these as ideas for alternate ways you can phrase your keyword within your post copy.
On-Page Optimization Is About People
Always write your blog posts for people first. As great as search engines are, they aren't your customers. In conclusion, write for the people; search engines are constantly changing their algorithms to try to behave more like human brains.
The above on-page SEO checklist items are here to help you make sure both people and search engines stay happy.
Tagged Alliance Tech Bracknell, Alliance Tech Mobile App Development Services, android app development, best Mobile app development company, Bracknell mobile app developers, iOS app development, mobile apps development, UK mobile app developersEdit